With Dr. G blocking, I felt just fine working on Juliet. . .and am nearly done with it, if the yardage calculations are correct! I did add a couple of rows before binding off the sleeves, and a few more prior to starting the lace. After consulting with Matlie, we both agree that the original pattern stops the garter stitch either too high, or too low to really be flattering on either of us, so we're making some modifications. I had hoped to use five skeins of yarn. . .if that is to be true, this is what's left.
I knew as soon as I cast this sweater on, it was going to be a super fast knit, and even commented to a few friends how sad I was that it would be over so soon. They thought I was sort of crazy, as I'd only knit a couple of rows when I made the comment. But don't you know that feeling? You love knitting a pattern, because of the yarn, the color, the stitch pattern. . .whatever it is, it just makes you happy. Sometimes, the knitting is the most fun, not the wearing of the garment. I really love the softness of the Cascade 128 superwash that I'm using. I feel thrifty, since I'm using stash yarn to knit it. I enjoy the look of garter stitch, since most commercially made sweaters are in stockinette stitch, I know it looks hand crafted. I am fairly certain the style will look attractive on me, and that makes me love it all the more. While I'm eager to wear it, I'm just loving the process right now. I'm already anticipating the separation pangs I'll feel when I'm done.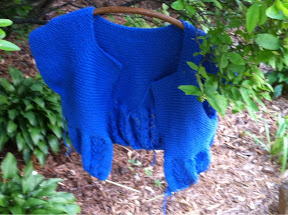 I'll take a break from it tomorrow so that I can begin seaming Dr. G. Maybe that will prolong the love.
Most of my weekend was spent cleaning Mike's basement. When we went last weekend, he didn't tell us there was water damage until we were leaving. . .not that we would have wanted to tackle the task alone. Susie and Laurie came from the west side of the state to join us, and the excavation began. Someone with children needs to tell me, do you really need to save a 15 year old hand-print wreath made by your child/grandchild if it's musty, bent up, and not being displayed anywhere? I was told that I didn't understand, and maybe I don't. Help me see the light. It was a struggle to determine what was too damaged to salvage, and many bags of trash and buckets of bleach water later, the basement is drying.
We thought we'd be clever and "share" the construction dumpster of the neighbor to dispose of the smelly, wet garbage. Not exactly the best plan. He went over to Mike's house on Sunday and requested that we remove the garbage. Back to Mike's house to deal with the trash again. Good criminals we are not. Today I was able to get permission to dump it in a local dumpster. Thank goodness! I had no desire to keep it around for much longer, let alone smell it or touch it ever again!
I meant to take some photos of the
Centurea Montana
in my front yard when it was blooming. . .it was an amazing display this year! I missed the
Siberean Iris'
big show too. . .and they are my FAVORITE but here are a few pictures of what is blooming in my yard today.
I have to say, I'm really enjoying the blooms this year.
These moonbeam coreopsis are getting ready to pop! I can't wait!